Synthetic VST Plug-In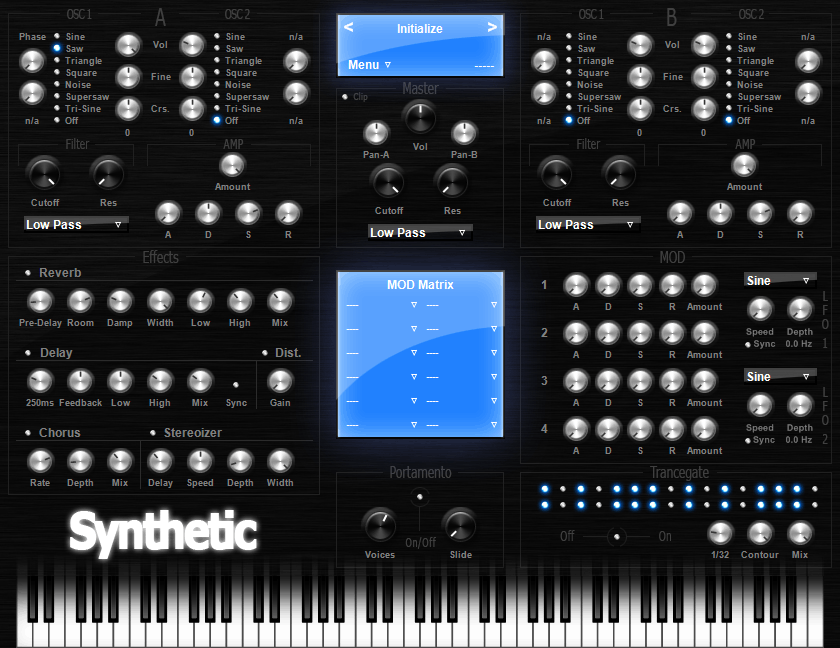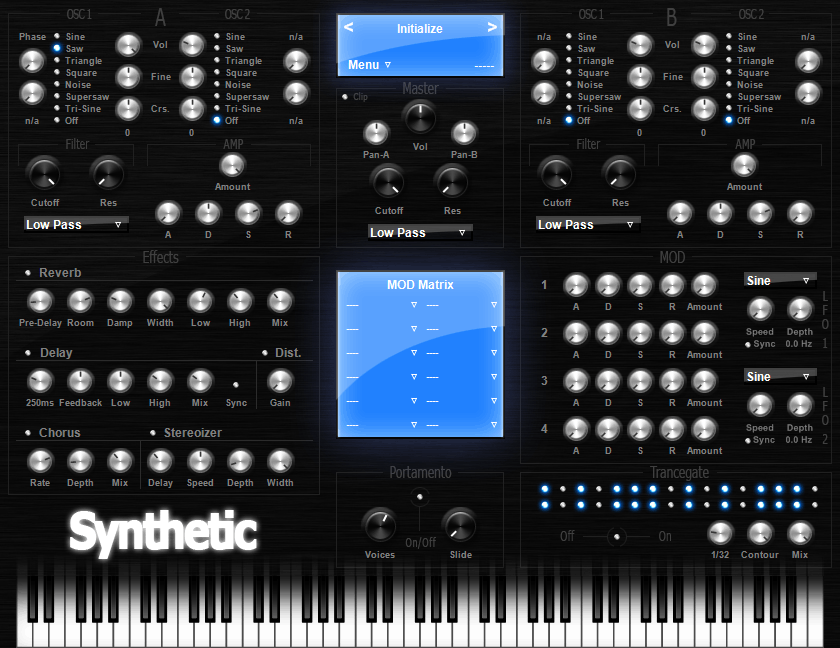 Synthetic is a quad oscillator subtractive VST plug-in made for layering and modulation. This is a great synth for creating pads or space textures and it's totally free!
Specs
---
Type: Subtractive
Included Presets: 128
Polyphony: 1, 4, 8 , 16
Oscillators: 4
Waveforms: Sine, Saw, Triangle, Square, Tri-Sine, Supersaw, Noise
Filter: LP, HP BP, BR, Peaking
Effects: Reverb, Delay, Chorus, Distortion, Stereoizer
Keyboard: Built-in
Modulation: 2 LFO, 4 Envelope
Modulation Routing: 6 available
Trancegate: 16 step stereo
Portamento: w/Slide
Features
---
Quad Oscillators
The oscillator system in Synthetic is made up of two groups. Each group consists of two oscillators, a filter, and an envelope. Each oscillator has seven waveforms available: sine, saw, triangle, square, noise, supersaw, and tri-sine. There are five types of filters to pick from in each group: low pass, high pass, band pass, band reject, and peaking.
Built-in Effects
Synthetic includes five built-in effects: reverb, ping-pong delay, chorus, distortion, and a stereoizer.
Factory Sounds
Synthetic comes pre-loaded with 128 presets! Including basses, leads, pads, strings, & more. Save and load abilities make it possible to create and share your own sounds!
AVAILABLE FOR FREE
Download Synthetic for free. Show your support by liking our Facebook page, and sharing with friends.
Requirements
---
Windows XP/Vista/7 (Windows only)
512 MB RAM (1+ GB recommended)
Pentium III or better (or AMD equivalent)
SSE processor support
DAW or host for VST
ASIO driver recommended