Retro Boy VST Plug-In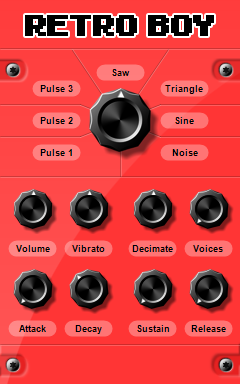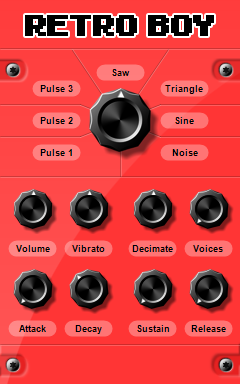 Retro Boy is a lightweight single oscillator chiptune synth. Loads fast and plays faster! Designed with retro gaming in mind.
Specs
---
Type: Subtractive Emulator
Polyphony: 1-4
Oscillators: 1
Waveforms: Pulse 1, Pulse 2, Pulse 3, Saw, Triangle, Sine, Noise
Effects: Vibrato, Decimation
Envelope: Linear ADSR
Features
---
Classic Chiptune Synth
Retro Boy is a subtractive chiptune synth/emulator. Chiptune, also known as 8-bit music is audio synthesized by the sound chip of computers, video game systems, and most older handheld gaming devices. Retro Boy features a single oscillator that has seven waveshapes: 12.5% pulse, 25% pulse, square, saw, triangle, sine, and noise. It also features a simple envelope, decimation, and vibrato.
Simple Lightweight Design
Due to the simplicity of the design, Retro Boy doesn't have much of an impact on most modern day CPUs. This is mostly due to the fact that it's single oscillator synth with a 4 voice max polyphony, all DSP is optimized, and has lightweight HQ graphics.
Available For Free
Download Retro Boy for free. Show your support by liking our Facebook page, and sharing with friends.
Try Something Bigger
The big brother of Retro Boy is available and ready to make music. Try it out for free! For more info, visit the RBXL details page.
Requirements
---
Windows XP/Vista/7 (Windows only)
512 MB RAM (1+ GB recommended)
Pentium III or better (or AMD equivalent)
SSE processor support
DAW or host for VST
ASIO driver recommended