RBXL VST Plug-In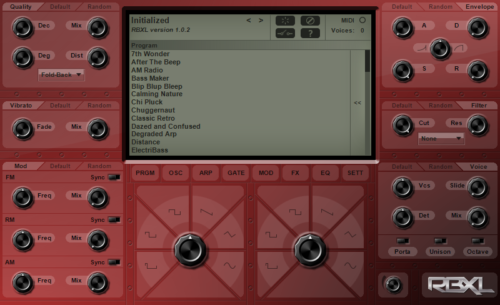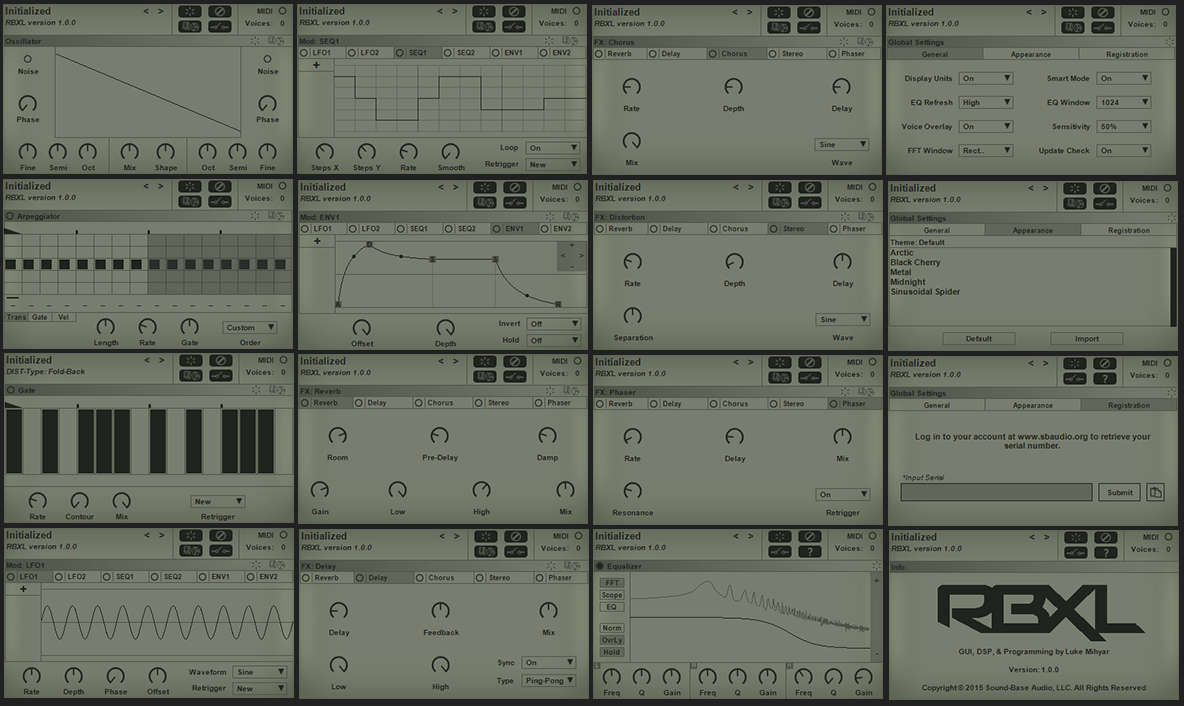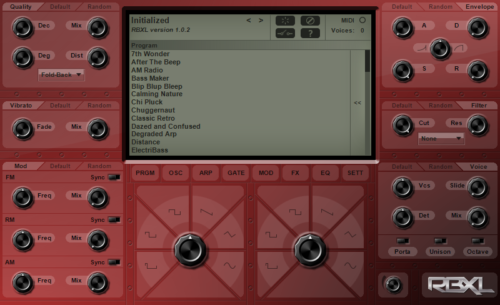 The big brother to Retro Boy, RBXL is a full-size, dual oscillator, subtractive synth hybrid, and is available as a 32 bit VST plug-in for Windows. Outfitted with a classic subtractive engine, it also utilizes frequency, amplitude, and ring modulation to further define the sound. Built-in effects come standard with RBXL, as well as an equalizer, arpeggiator, and much more to create retro quality sounds.
Specs
---
Oscillators: 2
Waveforms: 12.5% Pulse, 25% Pulse, 50% Pulse, Saw, Triangle, Sine, Noise
Polyphony: 1-64 w/ portamento and slide
Gate: 16 step, mono
Arpeggiator: 16 step,  w/ adjustable pitch, gate, and velocity
Modulation: 2 LFO, 2 sequence, 2 envelope
Effects: Delay, Reverb, Phaser, Flanger, Chorus, Stereo
Filter: LP, HP, BP, BR (-6dB,-12dB,-18dB,-24dB)
Signal Modulation: FM, AM, RM w/ frequency syncing
Unison: 4 voice w/ detune and octave spread
Analysis: Oscilloscope, FFT
Themes: Default, Arctic, Classic, Metal, Midnight, Sinusoidal Spider
Other features: Distortion, Decimation, Degrade, Vibrato
Features
---
Program Browser
The program browser allows for quick and simple program management. Create, save, and edit programs all via the browser with as little as two clicks. You can also import single programs or whole program banks to add to your library.
Randomization
Whether globally or locally, everything can be randomized in RBXL. Each module has the ability to generate random values for it's controls, and to revert the values back to their defaults. If that's not enough, selecting the random preset in the program browser will fetch a user generated preset from the RBXL database.
Made for retro sounds
RBXL was made for creating classic retro 8bit sounds, suited with plenty of lo-fi emulating effects, such as decimation & degrade. It also features an arpeggiator and sequencer for further modulation.
Includes a Bonus Drum Sample Pack!
Included with RBXL is a drum sample pack containing 208 HQ acoustic and synthesized drum samples. The acoustic pack contains a full recorded drum kit as well as other percussion samples with multiple recorded velocities. The synth pack contains a full modeled drum kit with over 10 different samples per instrument.
Requirements
---
Windows XP/Vista/7/8.1/10 (Windows only)
1GB RAM
Pentium III or better (or AMD equivalent)
SSE/SSE2 processor support
DAW or host for VST
ASIO driver recommended
Internet connection required for registration